Guitar Rig 4 KONTROL Edition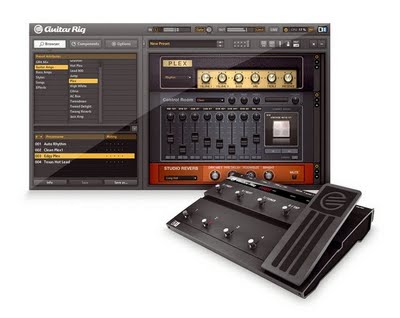 Native Instruments Guitar Rig 4 KONTROL Edition is all-in-one virtual guitar and bass software for great custom tone. The included Guitar Rig 4 PRO software delivers 14 amps, 25 matched cabinets, 48 effects, 17 guitar and 6 bass cabinets, 4 rotary speakers, and 9 microphones&mdashall recreated in stunning detail. There's also a new-to-the-series Control Room module, which provides selected vintage speakers and high-end microphones for natural sound reproduction and professional studio tones.

Guitar Rig 4 KONTROL Edition also offers stereo processing for all components, a master effect section that retains reverb and delay settings when changing presets. The improved preset browser has extensive search functions and KORE 2 format compatibility, a redesigned GUI, and improved overall workflow. You also get an integrated tuner, metronome, 2 tape decks, a loop machine, advanced modifiers, including LFO, step sequencer, envelope follower, and multi-step envelope.

Add to this the road-ready Rig KONTROL footpedal which offers both hands-free control and supreme sound quality (192kHz/24-bit), and with Native Instruments Guitar Rig 4 KONTROL Edition you have everything you need for studio and stage. Other features include a snapshot function for realtime control of multiple parameters via one switch, balanced stereo output, and separate headphone monitoring. This edition of Guitar Rig 4 also works as a MIDI interface or controller.
Native Instruments Guitar Rig 4 KONTROL Edition - Software/Hardware Combo Features:
Software Features
14 supreme-sounding guitar and bass amps, all perfectly emulated
in stunning detail
25 Matched Cabinets provide tried-and-true classic tones in seconds
48 effects, including meticulously modeled stomp boxes, distortion
and other popular effect units
17 guitar and 6 bass cabinets, 4 rotary speakers and 9 microphones for in-depth sound tweaking
New Control Room module offers selected vintage speakers and high-end microphones for natural sound reproduction and
professional studio tones
New stereo processing for all components
New Master effect section retains reverb and delay settings when
changing presets
Improved preset browser with extensive search functions and KORE 2
format compatibility
Stylish GUI redesign and improved overall workflow
Integrated tuner, metronome and 2 tape decks
Special features include a loop machine for creative jamming, plus
advanced modifiers including LFO, step sequencer, envelope follower
and multi-step envelope
Expandable with Guitar Rig Expansion Packs

Hardware Details
Rock-solid foot controller with 8 assignable switches and foot pedal
for flexible and intuitive hands-free operation in every situation
Integrated 192kHz/24-bit USB 2.0 audio interface with internal guitar preamps offers crystal-clear sonic quality - no additional hardware
required
"Snapshot" function for realtime control of multiple parameters via
one switch
Balanced stereo output and separate headphone monitoring
RIG KONTROL foot pedal works as MIDI interface and MIDI controller
Website: www.native-instruments.com/#/en/products/guitar/guitar-rig-kontrol/